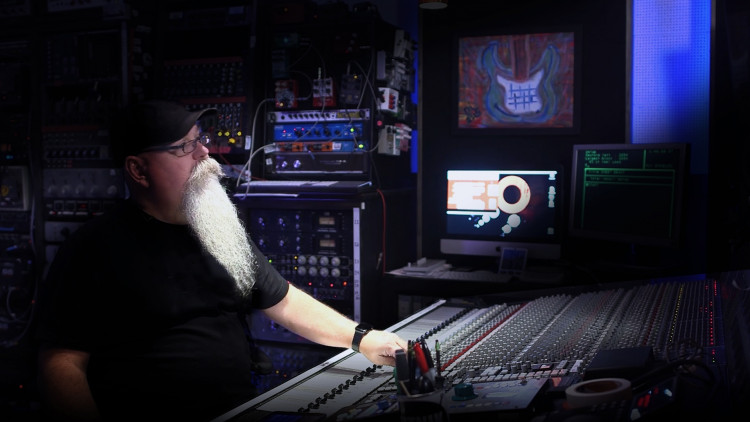 01h 02min
(36)
The production is complete, and practically sounds like a mix already, but Vance is not about to stop there. 
Starting by setting up his SSL console, calibrating his parallel outboard chains, and gain staging everything to set himself up for success, Vance begins the mix of "Sweet Beast" from Illiterate Light.
Watch as Vance:
Sets up his SSL Console for mixing
Calibrates his multiple parallel compression chains
Explains a few tweaks that happened off-camera, shaping tracks like the scratch vocal mic that was in the room during drum tracking, but Jeff did not sing into
Adds further processing on the samples he created with Jake
Adds stereo chorusing to the sub guitar
Adds an Ampeg SVT bass plugin on the Guitar Solo
Compresses the rhythm guitars
Sets up Automation on the SSL
Explains the signal flow of his console and outboard gear
Breaks down his Vocal Parallel Processing, consisting of three processors to enhance the signal
Discusses monitor loudness levels during mixing
PLUS: Download Vance's Pro Tools Template, made with 100% stock and UAD plugins, and recreate some of the techniques you'll see Vance demonstrate in this video!
Watch the rest of the series here
Hardware
API 2500
EQ 3D
Empirical Labs Fatso
GML 8900
Neve 33609
Software
Little Labs IBP
Roto Speaker
Sound Toys Echo Boy
UAD 1176 LN Rev E
UAD 1176 Rev A
UAD Ampeg SVTVR
UAD Distressor
UAD Eventide H 910
UAD Fatso
UAD Neve 1073
Pro Memembership
Watch all videos for$24.99 / month
Vance Powell
Vance studied electrical engineering in Missouri and started his career in live sound as a front-of-house engineer. In 2002, he moved to Nashville in order to become studio manager and chief engineer at the legendary Black Bird studios in Nashville. In 2006, he co-founded Sputnik studios along with Grammy-winning engineer Mitch Dane, still in Nashville.
Vance Powell has won 6 Grammy awards working with rock artists such as The Raconteurs, Kings of Leon, Jack White, Pearl Jam, The White Stripes, The Dead Weather and more.
Powell's domain of expertise is definitely mixing and producing rock music. As shown in his pureMix videos, Vance likes to experiment and create new fuller and exciting sounds using all kinds of pedals, echos, analog outboards and plug-ins. Vance was used to recording to tape and definitely has an analog approach that makes him commit to fewer good sounding tracks rather than piling up takes in Pro Tools.
His goal is to make something new and warm that fits the band's vision with upfront snare drums and powerful guitars. Rocking.
Credits
Jack White
Chris Stapleton
The Deadweather
The Raconteurs
Arctic Monkeys
Wolfmother