This class no longer accepts applications
Listen, Learn, Connect
On March 28th and March 29th join us for a two-day mixing masterclass with award winning producer Vance Powell at Flux Studios in New York City.

18 students will get to sit with Vance, see him mix, hear what he hears everyday and see what it's like to work in a professional studio.

Your mentor will walk you through one or several mixing sessions, showing you his template, workflow, settings, gear, plug-ins and equipment used. You will be able to ask all the questions you want.

This event is perfect to connect with fellow mixing engineers, grow your network, and develop yourself in the industry

Last but not least, your mentor will listen to one of your productions and give you personal feedback on your work.

The pureMix Masterclass program is your chance to be part of an everlasting experience and boost your mixing and production skills in just one weekend.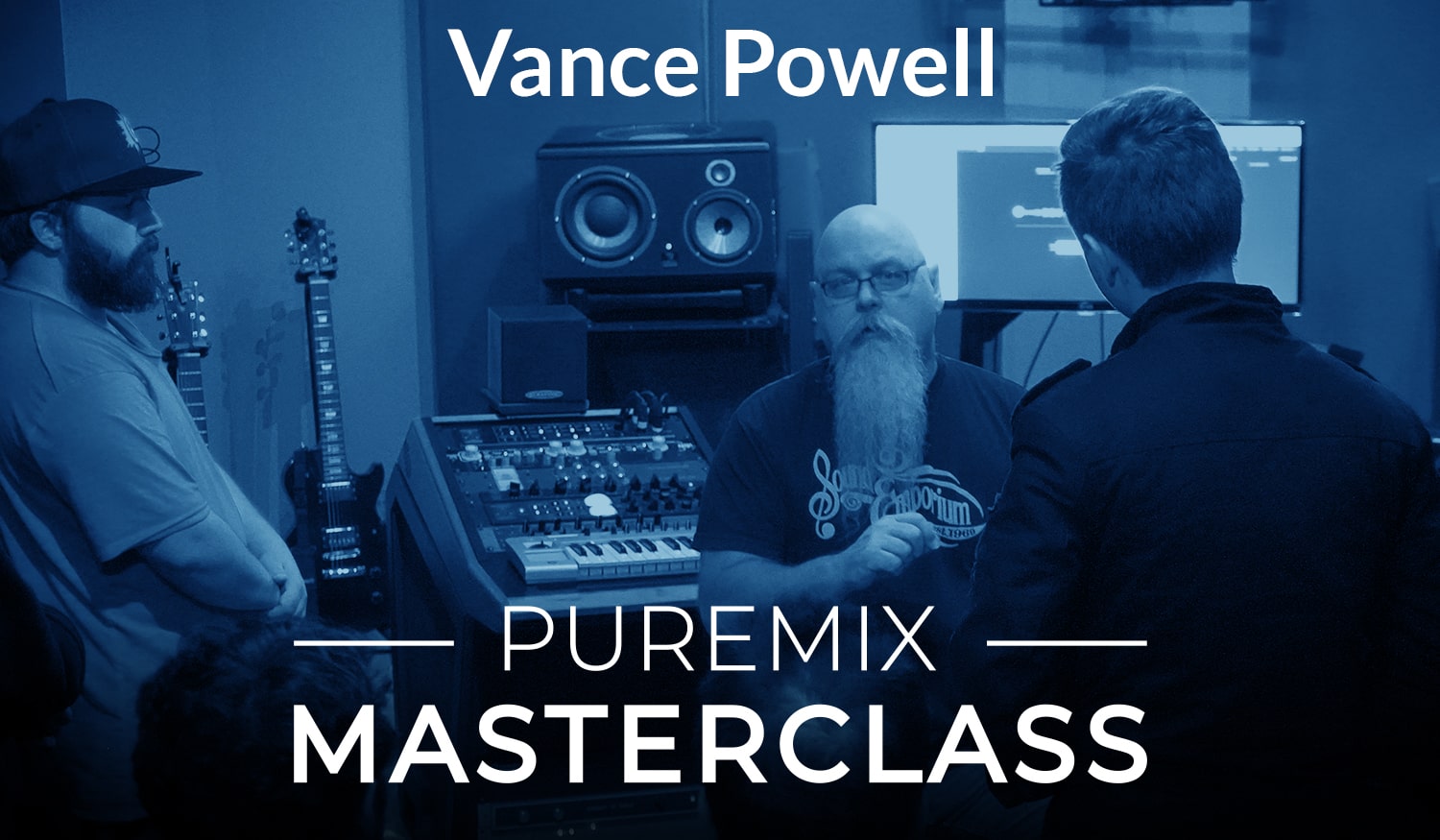 FAQ - Frequently Asked Questions
How does the application process work?

Log in and fill out the application form
We'll review your application and make sure the class is a good fit for you
Once accepted, you'll receive directions on how to make payment and suggestions for travel arrangements

What's the start and end time?

You can show up at 9am in order to get breakfast with everybody. Both days kick off at 10am sharp. The pizza party will start around 8pm and we'll probably run out of champagne around 10pm. We can also hang in NYC's finest bars on Friday night before the event.

How do I find the studio?

FLUX Studios is located at 154 E 2nd St. You'll see a black door with a ton of graffiti all over it, on the buzzer press the top button FLUX and someone will bring the elevator down for you.

Can my spouse/partner/friend join for both evening parties?

Yes, just let us know.

What food is on the menu?

We don't know as the food is made by a chef, but if you have any food allergies, concerns or require a special diet please let us know.

What sort of feedback will I receive on my mix?

Your mentor will listen to every student's mix. It usually takes place in front of everybody so that all students can learn from this experience. He'll point out both the good and the bad then offer you tips and tricks that can improve this mix and all of your mixes in the future. This part usually shows less than ideal room or monitoring systems at your place and / or balance and technical problems. It's pretty intense.

Can I get the sessions used during the masterclass?

It depends. If your mentor is using copyrighted top secret material… nah. Most likely the sessions you will be working on will be free to use and we'll be happy to make it available for you to download and practice on.

Where should I stay?

This is the list of the closest hotels to the studio, all within 10 mins walking distance:

New York is big and easy to navigate. Feel free to B&B anywhere you like in Brooklyn, Manhattan and Queens.
Testimonials
I guarantee you will not be the same mixer or producer as you were before the masterclass.
Tom K.
Masterclass Student
I was impressed by Fab's ability to convey knowledge, point out the most sonically important things and focus on the music all at the same time!
Thomas M.
Masterclass Student
A traditional classroom setting could not do for you in 3 months what this class did for me in one weekend.
Kyle V
null
Amazing weekend, it was a truly illuminating experience. I feel like I've had a glimpse of the "top of the mountain" and know what a record by top class musicians in a world-class facility and mixed by industry leaders sounds like (and very importantly, how it was done).
Martin K
Masterclass Student
Your Studio for 2 days
FLUX is a multi-room facility housing three state of the art studios, each with their own sense of style and unique blend of gear. Located in the bustle of New York's East Village, FLUX is a music recording studio with a vintage heart a modern head and vibe. 154 E 2nd street, 10009, New York, New York, USA